Licorice is a perennial herb which has been consumed in cooking and traditional medicine for a long time. Licorice is considered a natural sweetener and flavoring. Moreover, it has many benefits for our health and body. It is an effective remedy for digestive disorders, peptic ulcers, skin diseases and many others. Licorice fields of use are various due to its special properties. It is used in many industries such as tobacco, food and beverages, cosmetics and healthcare, pharmaceutical, traditional medicine and herbalism, confectionary, supplementary nutrition, chocolate and many others.
Licorice products are presented in a vast variety like root powder, extract powder, extract paste, extract granules, extract nuggets, extract blocks, DGL etc.
Sepidan Osareh Jonoob Co. is one of the prominent producers and exporters of licorice products in the world. This company is globally known as one of the best ones in licorice market. A number of factors lead to this company's achievements including very high-quality products, employing experienced staff, using modern machinery and instruments in production lines and laboratory, observing global standards in quality and management and many more.
Sepidan Osareh Jonoob Co. collected some information about various licorice fields of use.
Licorice fields of consumption
As mentioned above, licorice is used in different fields due to its natural and specific features. In the following we pay attention to this topic.
Other Confectionery and Chocolate Industry

There is a component in licorice called glycyrrhizin, which is 50 times sweeter than sugar. The sweetness in licorice is because of this substance. Licorice also generates a traditional, herbal flavor in these products. As we know a huge amount of sugar and food additives are used in confectionary products and candies. Licorice is used as a natural flavoring and sweetener in this industry.
Because cakes, sweets, chocolates and candies contain sugar, they have harmful effects on our health and obesity.
On the other hand, licorice has a positive effect on weight loss. This natural sweetener has many advantages in comparison with artificial ones. They also protect our oral and dental health.  In addition, licorice has some other benefits for our body such as treatment of stomach disorders and fatty liver, strengthening the immune system etc. licorice candies and chocolate are sold in different shapes like jellybeans, twists, tubes, pastilles, bars and so on. Other flavors can be combined with licorice to create more variety like strawberry, cherry, raspberry etc. In some parts of Europe salty and strong flavors of licorice candy and chocolate is preferred.
Cosmetics and Skincare Products
Anti-inflammatory, anti-bacterial, anti-viral and anti-oxidant elements in licorice, has made it a popular herb in cosmetics. It is used in creams, topical gels and ointments to treat skin diseases such as eczema, psoriasis, redness on skin surface and other skin problems. It keeps the skin surface clean, so it prevents infection.
According to Sepidan Osareh Jonoob Co. studies, licorice extract controls the number of pigments and prevents their accumulation. This accumulation causes dullness on the skin surface. This plant has flavonoids dispersing melanin on the skin surface, which brightens the skin. Licorice extract is rich in antioxidants, so it is anti-aging; it helps regenerate collagen to keep our skin soft and smooth. Licorice protects the skin against UV rays, and this is done by strengthening the skin's own defense system.
Moreover, licorice is consumed in soap and shampoo. Licorice prevents hair loss and makes our hair grow faster. It is also used to repair damaged and colored hair and to remove dandruff.
Tobacco Industry
Using licorice in tobacco has been very popular for several reasons. This plant gives pleasant and sweet flavor to the tobacco products, due to existence of glycyrrhizin in licorice, it creates a sweet taste. Licorice maintains moisture in tobacco and prevents from its dryness. It also decreases dryness in mouth and throat after using tobacco which is enjoyable for consumers. It harmonizes the flavor in cigarettes and other tobacco products.
Food Industry
As a non-artificial flavoring and sweetener, licorice is used in a vast variety of food products. Pastilles, ice cream, jellies, condiments, chewing gum, sauces, herbal tea, syrup, soft drinks, beer and alcoholic drinks are among these products. Licorice tea is one of the oldest herbal teas around the world, which is used for sore throat treatment and for better function of digestive and respiratory system. Licorice root is used to flavor dry food such as sugar, coffee, salt and some other ones. This plant is found in the combination of spices. Licorice is also used in alcoholic beverages especially strong ones. It gives them strong and special taste.
Pharmaceutical Industry
Licorice due to its glycyrrhizin and some flavonoids, is helpful in treatment of digestive ulcers. Licorice relieves digestive disorders such as stomach pain and heartburn, indigestion, acid reflux and etc.
Licorice in the form of herbal tea, lozenge, and syrup is very common to soothe sore throat. It is also effective in reducing cough. On the other hand, it defends our body against the viruses that can cause respiratory problems.
Licorice has some benefits for our oral and dental health. It prevents cavity and tooth decay by fighting against special bacteria.
Licorice in medicinal industry is consumed in syrups, capsules and pills, creams, topical gels and ointment, lozenges for sore throat, toothpastes and other forms of drugs.
Licorice DGL contains less amount of glycyrrhizin and it is mostly used in this industry. It is suitable for people suffer from peptic ulcers, diabetes and high blood pressure.
Traditional Medicine and Herbalism
In traditional medicine and herbalism, licorice has got a prominent place. It has been used as a herbal remedy to treat stomach disorders, inflammation, peptic ulcers, sore throat, eczema, psoriasis and other diseases. Licorice is a perennial herb which has been used since ancient times. Its use dates back to ancient Egyptians when it was given to Pharaoh in drinks. In traditional Chinese culture, licorice has been considered as an herb which increases strength and endurance in body. Traditionally, licorice was consumed as an herbal drink. Furthermore, it has been used in curing hair problems.
Final Note
Licorice is generally considered as a safe food ingredient as long as it is used at standard level. Individuals who suffer from diabetes, high blood pressure, liver and kidney problems, pregnant or breastfeeding women, people who had a stroke or heart attack, should consult with their doctor about using licorice and it is better to limit licorice usage. Excessive use of licorice can decrease potassium levels, changes heart beat rhythms and result in weakness and fatigue in our muscles, high blood pressure and other problems.
Licorice Latest Articles And News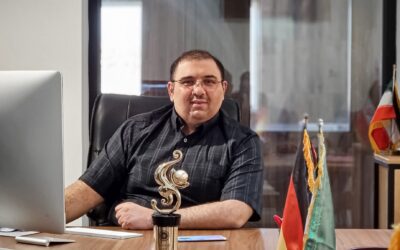 Interview with the CEO of Sepidan Osareh Jonoob Company Licorice is an ancient plant that our ancestors used in the past to treat various problems. It has different local names in different parts of Iran, such as "Mahak root" and its extract is also called "Qara...
read more